First of all, welcome back our new article on how to delete the Amazon account permanently. Sometimes the user does not know how to destroy an Amazon account on mobile or laptop.
so in this article, we are going to show you step by step process on how to delete your account smoothly.
Which Reasons to close Amazon account 2022
you are not able accessing longtime amazon services
maybe some financial problems
Amazon does not take straightforward options
don't like amazon customer services
Amazon products don't satisfy your mind recommendations
Don't Like amazon delivery services
So in these cases, the user doesn't know how to permanently deactivate the amazon account, so let's discuss the step-by-step process.
How To Delete Amazon Account Permanently
After closing your Amazon account, you can lose all the access like order history, pending order histories, receipts, our amazon customer membership, everything.
Follow the steps given below, and you can quickly close the amazon account.
First, open the Amazon website and log in through a mobile number or password.
Scroll down and click the help link in the footer section.
Go footer section, click customer service, and click contact us.
Then click the prime or something else button.
Scroll down, tell us more sections, choose login and security options, and close my account settings option.
Going Talk to someone section and click the email button.
After clicking the email address button write the email.
The email:- (I wanted to close my Amazon account because I have another amazon account, please close my account) After writing the email, you can click the send button.
Then amazon sends the mail to your registered email id, and in this mail, you can get the link, scroll down and click the link.
After clicking the link, your Amazon account will be canceled successfully.
How to Remove Amazon Account on iPhone in 2022.
Suppose you are an iPhone user and you have an amazon account on iPhone, you are not capable of using this account, but you don't know how to deactivate the amazon account forever, so you don't take stress because I will explain everything for us track my given instructions given below.
Open your Amazon app.
Click on the three lines in the top left corner.
Click on Customer Services.
(Your purchasing history will delete, you cannot get invoices of your products once the account has been erased. All the transactions details delete in amazon pay)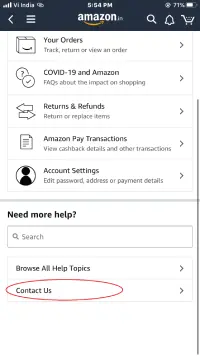 Tap on Online Chat with Customer Services.
Click on ok, I Understood.
Type "I have a Different Problem," and you can contact with live Customer support Executive.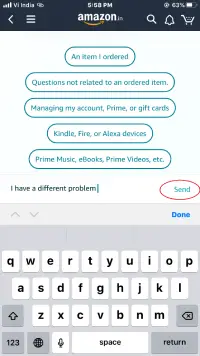 Click on Customer Support Icon.
Click on Chat with customer service.
Send him, "I want to close my account."
Give a valid reason for closing your account.
they will send you mail that contains a link (valid for 48 hours)
Click on the link.
Enter a comment and click on send mail.
(Your account will close within 12-24 hours.)
How to Deactivate Amazon pay account or Deregister amazon UPI id.
When you cancel your amazon pay account, your linked bank account will remove automatically. Watch the below mention step and Erase Your Amazon Pay account immediately.
Open the Amazon app.
Click on amazon pay.
Click on amazon pay UPI.
Tap on Deregister amazon pays UPI.
Click on Yes, Deregister amazon pay UPI.
Your Amazon Pay UPI id is successfully destroyed.
How to Close Amazon Prime Account Easily.
If you are using an amazon prime account and watching movies, video clips, and trending songs, but at this time, you are not able to use an amazon prime account, and you wanted to delete it permanently so you can arrive at the right place.
After erasing an account, you lose all the digital content like gift cards, amazon videos, Kindle ebooks, prime membership, etc.
Pros of Amazon Prime account.
You will get Free shipping from amazon.
You can see amazon prime videos (Obviously, you have to buy prime membership to watch prime videos and series )
Follow the below steps to eliminate your amazon prime account.
Open the Amazon app.
Click on three line top left of the corner.
Click on Your Account.
Tap on Manage Prime Membership.
Click on End Membership and Benefits.
Scroll down and click on Continue to cancel.
Scroll down and again click on Continue to cancel.
Click on End now.
Your Amazon Prime account is successfully deactivated.
I hope this report fully filled all of your difficulties regarding the Amazon account deletion process if you have any query related to this article, please feel free to hit the comments section. Thanks for visiting Informativelife.