The First fall Welcome Back My New Post How to Register Mobile Number in Aadhar Card Online In This post, we describe how mobile numbers register in Aadhar card online step by step.
Aadhaar Card is an individual identification card declared by the Government of India to all Indian residents. The card provides a different 12-digit number announced the Aadhaar Number, based on specific biometric plus demographic information.
Aadhaar card Connecting by your mobile number has become compulsory by the Government through the order established by the Supreme Court.
aadhar card mobile number registration online
If you are interested in getting the information regarding How to Register Mobile Number in Aadhar Card online, this is an article for you.
Note:- Before Linking Mobile Number to an Aadhar card, You must have been A New Number.
how to add mobile number in aadhar card (Step By Step)
Note:- If You Have a New Number, Then Skip the first Step and Start From the Second Step.
Step #1
How to Buy A New/Sim Card Number To Any Telecom Operator.
Visit Any Telecom Operators.
Request a Different Number of New SIM
Give a Photocopy Document of your Aadhaar Card ID proof and Address Proof
Scan your fingerprint by doing the biometrics for authentication device and Verify Aadhaar Details.
A New/Number SIM would be issued after the fulfillment of the verification process.
After the verification process, the new SIM has been Activated for around an hour.
The Telecom Shop Keeper Take with You some amount for a new Sim Activation.
Step #2
Create Aadhar Mobile Linking Application from the Uidai website.
Click this link and go to the Aadhar card official Uidai website. 
Here you Can Click the Get Addhar Option.
Then Click Book an Appointment.
Tap Proceed Book Appointment.
Here Add Your Mobile Number or Captcha Code and Click Send OTP.
Here You Can fill The OTP Code in this box.
After Fill OTP, Click Submit OTP & Proceed Button.
Click Update & Addhar Option
On this page, Fill Original Addhar Card Number & Name or Click Mobile Number Option and Click Proceed Button.
Re-Enter Your New Mobile Number or Captcha Code And Click Send OTP Button.
Now Fill Your Received OTP Code at This Box And Click Save & Proceed Button.
Click The Discloser Under Section Box Agreement or Tap Submit The Form Button.
Here You Can See The Your Application has been Submitted Successfully
Now Click Book Appointment Button.
Fill in Your City Pin Code Number and Click Get Details Button.
Here You can See Your Nearest Enrollment Centers.
Choose Your Nearest Enrollment Update Center And Click Book Appointment.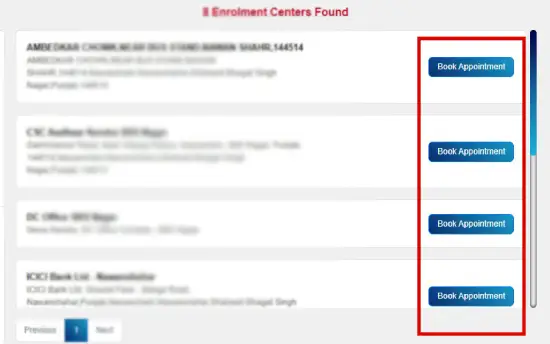 Then Here You Can See Red or Green Dates Simply Red dates Showing Holidays at this day and Green day Showing Working at this day.
Choose Your Preferred Date or Timing and Click Submit.
Now Chek Pay At Centre Option and Click Confirm Button.
You Can See Here Your Application Form Details.
Here You receive an Application form in PDF arrangement while you click on confirm. You can save it and take a printout of the same before Visit the Nearest Addhar enrollment center.